This Easter marks a global call to action and communication against the Border Regime, refugee detention and destitution.
London Noborders has called for a demo at Harmondsworth Detention centre
near Heathrow airport on Saturday 8th April. Noborders are calling for a loud and noisy demonstration outside Harmondsworth detention centre, in the hope that those inside will hear our voices and know that they are not alone. Noborders are also calling for as many people as possible to visit detainees inside Harmondsworth after the demonstration to communicate with them directly, hear their stories, and see the conditions inside these detention centres for ourselves.
Birmingham Noborders has arranged transport from Birmingham to Harmondsworth and back. Tickets for the coach to Harmondsworth are going quickly so please get in touch with Birmingham Noborders if you'd like to come to the protest and join the Birmingham Noborders mailing list if you'd like to get more involved.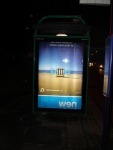 Before opening the Ads-hell screen with an allen key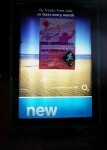 Noborders poster installed behind glass screen