17th-26th November
TENS OF THOUSANDS OF SALMON RELEASED (Sweden)
INCENDIARY DEVICE PLACED UNDER VIVISECTORS CAR (USA)
CIRCUS VEHICLES COVERED IN PAINT, WINDOWS BROKEN (Mexico)
LSR ATTACKED IN TOWN CENTRE (UK)
RETURN VISIT TO COCKFIGHTER (Mexico)
TROUBLE AT FUR SHOP (UK)
CHICKENS RESCUED FROM TRUCK AT SLAUGHTERHOUSE (Spain)
"STOP THE SHOOT" (UK)
WINDOWS SMASHED AT BREEDER OF FIGHTING BIRDS (Mexico)
ALF EXPOSE, RAID AND TRASH RABBIT FARM (UK)
10 TURKEYS RESCUED (Netherlands)
NEW LIVES FOR RABBITS REMOVED FROM PET SHOP (Mexico)
600 FOXES DYED WITH HENNA (Finland)
BARCLAYS BANK SPRAYPAINTED (UK)
EGG DISTRIBUTORS PAINT-BOMBED (Mexico)
MEAT COMPANY AD CUT DOWN (Mexico)
BANNER DROP FOR ROD CORONADO (USA)
MEAT TRUCK PUT OUT OF SERVICE (Mexico)

ALF EXPOSE, RAID AND TRASH RABBIT FARM (UK) - application/x-shockwave-flash 8.9M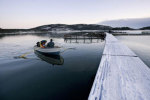 TENS OF THOUSANDS OF SALMON RELEASED (Sweden)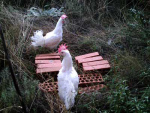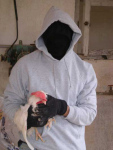 CHICKENS RESCUED FROM TRUCK AT SLAUGHTERHOUSE (Spain)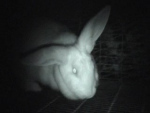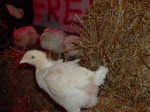 10 TURKEYS RESCUED (Netherlands)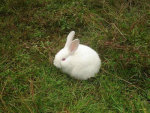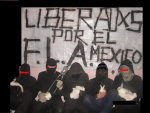 NEW LIVES FOR RABBITS REMOVED FROM PET SHOP (Mexico)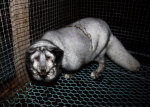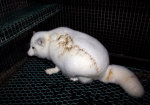 600 FOXES DYED WITH HENNA (Finland)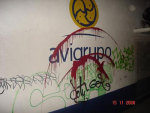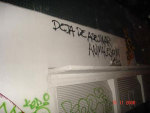 EGG DISTRIBUTORS PAINT-BOMBED (Mexico)
TENS OF THOUSANDS OF SALMON RELEASED (Sweden)
anonymous communique (photo by Leif Wikberg / allehanda.se):
"Sweden, Ångermanland, 21 november
On the night of 21 November more than 100,000 salmon were liberated from two fish farms in northen Sweden.
These two fish farms are a part of the huge Swedish fish farming industry that kills over 5 billion fish every year.
In a fish farm, tens of thousands of fish live cramped in net-cages without any chance to engage in their natural behaviors, like traveling long distances.
Fish are individuals who feel both pain and stress, and to breed, keep them in cages and kill them, however it is done, is unacceptable.
We wanted to give as many of these individuals as possible a chance to live the rest of their lives in freedom, instead of ending up on a dinner table.
We realise that some of the released fish will die in the wild because they were born in captivity and may have trouble learning to finding their own food, etc. But there is a big difference between dying in freedom than in captivity, and it is guaranteed that more fish are going to survive in the wild than if they were left in the fish farm.
We are also aware that the liberation of the fish may have a negative effect on the ocean ecosystem. We hold the farmers responsible for any such effects, because it is their oppressive actions that forced us to act.
At Näske Lax AB more that 100,000 salmon were liberated by cutting all the net-cages that were holding the fish. A boat motor was also destroyed and some tires slashed. A spray can was emptied painting messages from the DBF.
The farm is not insured and after economic loses of millions of Swedish Kroner, the farmer doesn't think he will be able to open up the business again.
The second farm visited the same night was Ålands fiskförädlings, a big floating facility hundreds of meters out in the sea. After rowing out to the facility we cut as many net-cages as possible before dawn, releasing lots of fish.
Direct action saves lives!
Both by saving individual animals and also by economic sabotage we make it harder and less profitable to continue to torture and kill animals.
For the animals!
DBF (Swedish Animal Liberation Front)"
>>
INCENDIARY DEVICE PLACED UNDER VIVISECTORS CAR (USA)
anonymous communique:
"The holidays are coming up and Santa was checking his list twice to see whose been naughty or nice. The name Goran Lacan caught Santa's eye as having done abominable things to small monkeys inside the labs at UCLA. Santa had his elf or in this case, alf, check Lacan's department lab records.
Santa discovered that Goran Lacan studied human eating disorders like anorexia and obsesity in vervet monkeys by implanting electrodes into their skulls and backs and invoking painful stimuli. After a long period of time, he killed them. So early November 20th when Santa was out delivering pieces of coal to those who were naughty, one of his stops was Goran Lacan's house at 3448 Greenfield Avenue in Los Angeles.
When Santa went into his knapsack to pull out his last piece of coal he discovered that there wasn't any left, just a lone incendiary device. Santa thought this was the perfect gift to give a monster like Lacan and placed it under his car.
As the sun was coming up he headed back to the North Pole to check his list for other names of naughty vivisectors. Santa wished Lacan was in the car at the time the fuel ingnited, but hopefully he will be next time.
Santa sends this message to all vivisectors this holiday season: those who experimented on primates in the past, currently or thinking about it in the future, it may not be tomorrow or next month that his alfs will find you so that he can bring you other gifts you deserve.
Santa never forgets to give out presents to primate vivisectors.
Students and Workers for the Liberation of UCLA Primates"
>>
CIRCUS VEHICLES COVERED IN PAINT, WINDOWS BROKEN (Mexico)
anonymous communique (translation):
"Lions, tigers, horses and other animals are kept shut away in a famous circus from Mexico State called 'Circo, London,' where the animals are humiliated in such a way that we couldn't just stand there with our arms folded.
On the night of November 21 we entered the above-named center of psychological and physical torture and we poured paint on windows, sides and trunks of 6 vehicles belonging to the owner of the circus, and the windshields of 2 vehicles were also smashed with hammers.
Our most profound hatred against the exploiters, and our most profound love for freedom demands our sabotage; let's put it into practice!
FLA México"
>>
LSR ATTACKED IN TOWN CENTRE (UK)
reported anonymously:
"Big companies can't hide.
Brighton city centre, right under the noses of Sussex Police and their Orwellian surveillance cameras, was the location for a round of co-ordinated attacks against the financial pillars propping up the sick monsters inside HLS:
BARCLAYS BANK
While students were staggering around town drunk and eating kebabs we used the opportunity to visit Barclays and made a deposit into their ATM cashpoints. They are now both rendered out of use with industrial heavy duty glue inserted into their card and money slots. Cut your ties with HLS, Sell your shares in the NYSE - Anti-Capitalist Action Brighton
PRET A MANGER
Goldman Sachs - You were warned. Selling LSR's pathetic shares was NOT enough. Now the colorful windows of Pret have had a funky new design added by etching fluid. Nothing is sacred, No-one is safe - Pret Sketch Crew
GET HLS OFF THE EXCHANGE NOW!"
>>
RETURN VISIT TO COCKFIGHTER (Mexico)
reported anonymously:
"A bastard fighting cocks breeder received a visit from us again; this time his display sign was left unable to be seen by the public after we covered it with paint, at the same time the floors, white walls and windows were receiving the same treatment.
There is no turning back!
FLA México"
>>
TROUBLE AT FUR SHOP (UK)
received anonymously:
"On a recent night, a visit was paid to Amanda's 'fashion' shop in Leeds, they've been selling fur.....
The door locks were glued, then the shop windows received spraypainted messages, and afterwards smashed.
Amanda's
51 Harrogate road
Chapel Allerton
Leeds
LS7 3PD

info@amandasonline.co.uk
0113 262 5599

http://www.amandasonline.co.uk
Ditch the fur.
A.L.F"
>>
CHICKENS RESCUED FROM TRUCK AT SLAUGHTERHOUSE (Spain)
reported by Acción Vegana;

http://www.accionvegana.org/subprinc/acc.htm
click here for additional photos:

http://directaction.info/images2/Spain_chickens_Nov08/Spain%20-%202%20chickens%20rescued%20from%20slaughterhouse/index.html
"On the way to gather material related to animal liberation, we came across a slaughterhouse, within whose walls were 3 trailers full of chickens waiting their turn to be killed on a cold night in October.
Without thinking twice, we jumped the wall of the slaughterhouse, rescued 2 of the hundreds of chickens that waited there and with them once again we jumped the wall to bring them to the place where they now live free. Without freezing for hours waiting in the truck, without being mutilated and then killed ... They live a life of freedom that they never should have been refused.
We decorated the with a symbol of the Frente de Liberación Animal and these words: 'Hens Freed'.
Our friends are already part of our lives, we hope to get to know your friends soon.
You also can free animals. Stop talking and act! (A.L.F)"
>>
"STOP THE SHOOT" (UK)
anonymous report:
"Up on the Keighley road, running up near to Ilkley moor, a can of spray paint was emptied onto the road.
The slogan read:
'Stop The Shoot'
ALF"
>>
WINDOWS SMASHED AT BREEDER OF FIGHTING BIRDS (Mexico)
anonymous report:
"November 18:
On the night of the date indicated, we again visited a known enemy, a breeder of fighting cocks; we have broken 6 windows around the property with hammers, in addition to leaving a message on his door:
'Today there were hammers, tomorrow maybe fire, stop killing animals. Sincererely, you know who.'
F.L.A México"
>>
ALF EXPOSE, RAID AND TRASH RABBIT FARM (UK)
anonymous communique; click here to view photos from the action:

http://directaction.info/images2/UK_rabbits_Nov08/UK%20-%20rabbit%20meat%20farm/index.html
"Animal Liberation Front Investigations Unit Expose Rabbit Meat Farm
05 . 11 . 2008
On the eve of Barry Horne's death, a group of volunteers accessed a rabbit 'meat' farm in Berkshire, U.K. This farm used to harbour hundreds of rabbits in the back of converted box lorries, but have recently upgraded their bunny butchering enterprise to four permanent and highly intensive units. Semi-built and set to be filled with hundreds of rabbits, we entered the site and bypassed top security measures.. the key was left in the door!
One unit was so full of rubble and electricity cables we almost didn't expect to find any animals in such conditions. Further inspection found rows of cages, many with rabbits inside. All living on wire, many rabbits were blind, had ears missing and were rotting alive inside this windowless hell.
Even within a legal system that legitimises animal abuse, this sicko has still managed to torture animals beyond any legal requirements. The unit was in total disrepair, flooded with a mix of water and excrement, with open elecrticity wires and strewn with litter. None of the units had ventilation or air conditioning systems, despite being newly built. This farm was an excellent example of what 'animal welfare' means for animals: fuck all.
Needless to say we decided to make some legal corrections. After taking several rabbits to safety, who are now recovering in loving homes, we turned our attention to stopping this 'man' filling any more cages with defenceless animals. We cut every empty cage into pieces. Fuse boxes and machinery were glued and filled with expanding foam. Messages were left on the outer walls and doors before we vanished back into the darkness with our newly acquired friends.
This action was carried out in the memory of Barry, who continues to be an inspiration to us all despite his death at the hands of the british government.
- ALF Investigations Unit"
>>
10 TURKEYS RESCUED (Netherlands)
received anonymously; click here to view additional photos:

http://directaction.info/images2/Netherlands_turkeys_Nov08/Netherlands%20-%2010%20turkeys%20rescued/index.html
"In the beginning of november the Animal Liberation Front rescued 10 turkeys from the meat industry. These beautiful animals were being bred to end up as a christmas meal.
We saved 10 lives. These animals will never be hurt. These animals will get all the respect, love and warmth they deserve.
We dedicate this action to Barry Horne.
Untill the last cage is empty!"
>>
NEW LIVES FOR RABBITS REMOVED FROM PET SHOP (Mexico)
anonymous communique (translation); click here for additional photos:

http://directaction.info/images2/Mexico_rabbits_Nov08/Mexico%20-%20Freedom%20for%20five%20rabbits/index.html
"5 rabbits released in Mexico City (D.F.)
While many people were in the bars, in cantinas, in the night clubs during this 'fiesta', spending large sums of money, killing in an irresponsible and illusory way the stress that work imposes on you, that living in big cities, wasting energies on your own destruction, we went to another fiesta, the fiesta of freedom, a celebration of animal liberation.
During the afternoon of Friday, November 14, we rescued (and subsequently released) 5 rabbits from the captivity to which they had been subjected,
held in a tiny cage where they could not run, much less jump,
put up for sale in a precarious and dirty 'Pet' shop in the east of the city.
Their lives and their freedom until that moment were not respected in the least,
because they were taken as a product of consumerism and human anthropocentrism.
This situation changed dramatically and now they live, they eat, they run and they jump free, carrying out their rabbit lives with no one to look at them like a toy or a product.
Whoever thinks the Frente de Liberación Animal in Mexico does not exist ...
are very wrong.
Anyone who thinks that animal liberation in Mexico is impossible ...
is very far from understanding the current reality.
F.L.A. ... a real alternative for the animals.
FRENTE DE LIBERACION ANIMAL/COMANDO VERDE NEGRO."
>>
600 FOXES DYED WITH HENNA (Finland)
According to mainstream media, a fur farm in Lappajärvi was raided during the night of November 17. 600 foxes were dyed with non-toxic henna. Cages were also opened and breeding cards taken.
>>
BARCLAYS BANK SPRAYPAINTED (UK)
anonymous report:
"A Barclays bank in Brighton city centre got a new paint job last night. Unfortunately for them it was the ALF and not their usual contractors. We hope they like this new wall decoration which now reads DROP LSR SHARES, SCUM, DROP HLS and ALF repeatedly across walls & windows.
We are just getting started Barclays, drop your HLS and NYSE shares 'cos we've got a lot more in store for you and it wont just be paint next time. HLS are worth nothing and were making sure they're going to be worth BELOW ZERO in ANY way we can. We'll go anywhere and do anything, no distance or effort is a problem when we have the screams of murdered animals ringing in our ears. Sell your shares if you don't want to be targetted from every angle we can find. Its quite simple.
You've been warned. Anywhere anytime, we're coming for you.
A.L.F."
>>
EGG DISTRIBUTORS PAINT-BOMBED (Mexico)
received anonymously:
"Sabotage to shops that distribute eggs in Mexico City.
On the night of Friday 17 of this year, there were sabotages at 2
egg distributors; in one two paint bombs were thrown, in the other
we spilt red paint and various warnings to the exploiters were written.
Until the end of the exploitation ... sabotage and action.
F.l.A."
>>
MEAT COMPANY AD CUT DOWN (Mexico)
received anonymously:
"During the early morning of November 17 activists of the Frente de Liberación Animal climbed to the roof of a company of poultry exploitation, which had a big advertising sign that invited people to eat a corpse; we cut that sign that was around 5 meters in length and left it unusable.
Never use appeasement with speciesists, they need us to give them war!
FLA México"
>>
BANNER DROP FOR ROD CORONADO (USA)
anonymous report:
"In the predawn hours of November 1 we hung a banner in solidarity with Rod Coronado in downtown Oklahoma City by the highway. Rod Coronado has been imprisoned in Oklahoma for more than half a year for bullshit charges.
Another indigenous man locked up just adds to the already 500 year long project of genocide in this country.
Hoka Hey!"
Support Rod

http://www.supportrod.org
>>
MEAT TRUCK PUT OUT OF SERVICE (Mexico)
reported anonymously:
"Meat industry sabotage. Mexico City (D.F).
On Friday night, a truck belonging to the meat industry crossed the path of the f.l.a. We lost no time in putting it out of service.
In a spontaneous sabotage many of the cables that ran to the freezer in the back of the trailer were cut, the cables located beneath the box were also cut.
The meat industry requires all of our strength and anger to be destroyed.
F.L.A."
>>
Related articles

http://www.indymedia.org.uk/en/2008/11/413067.html
(17th)

http://www.indymedia.org.uk/en/2008/11/412705.html
(11th)

http://www.indymedia.org.uk/en/2008/11/412311.html
(5th)
More info

http://www.animalliberationfront.com