23rd-27th September
BULLFIGHTING MONUMENT DEFACED (Venezuela)
CHRISTMAS COMES EARLY FOR 51 TURKEYS (UK)
THOUSANDS OF MINK RUN FREE, FARMERS WORRY ABOUT THEIR FUTURE (Italy)
ALF ATTACK VIVISECTION BREEDER (UK)
FLY FISHERY TARGETED (UK)
MESSAGE LEFT FOR BULLFIGHTER (Spain)
3 BARCLAYS CASHPOINTS GLUED (UK)
OLD TRICKS FOR A NEW DOG (UK)
MCDONALD'S BILLBOARD PAINTBOMBED (USA)
STICKY SITUATION CONTINUES FOR BARCLAYS (UK)
HOME VISIT FOR NOVARTIS VIVISECTOR (UK)
BARCLAYS BANK PAINTED AND GLUED (UK)
DOWN ON THE FARM WITH THE ALF (UK)
ANIMAL TRANSPORTER & FARM VEHICLES WRECKED (UK)
TWO SOUTHERN BARCLAYS VISITED (UK)

BULLFIGHTING MONUMENT DEFACED (Venezuela) - application/x-shockwave-flash 3.7M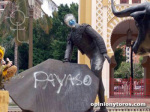 BULLFIGHTING MONUMENT DEFACED (Venezuela)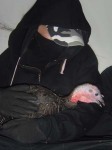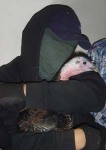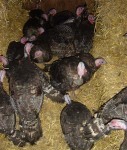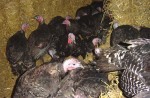 BULLFIGHTING MONUMENT DEFACED (Venezuela)
September 20, 2008. A monument erected in honor of the Venezuelan killer of bulls, Cesár Girón, was painted in the city of Maracay (Aragua). The word "payaso" ("clown") was painted on the statue. The action took place less than 50 meters from a police station. (photograph from a pro-bullfighting website)
Video

http://www.youtube.com/watch?v=5BKHwihdLg4
>>
CHRISTMAS COMES EARLY FOR 51 TURKEYS (UK)
anonymous communique:
"Santa's little helpers have been deployed early this year, and they're already noting down the mean people onto their naughty list.....
One person set to receive a lump of coal is a turkey farmer in north Somerset. This man harbours thousands of turkeys for the purposes of murdering them and selling their dead bodies for people to tear apart across the christmas dinner table.
Had he looked out of his window last night, he would have seen several little elves carrying big presents through the mist. Inside each one, a gorgeous Bronze turkey escaping the concentration camp and being taken to safety.
Somehow, even though we murder gentle and intelligent creatures for the sake of consumption, we still call ourselves a 'civilised' society. At what point is slicing an individual's head off and feasting upon his or hers decaying flesh 'civilised'??
One day humankind will look upon animals as the intelligent and worthy individuals that they are. Until that day, we will be raiding your farms and animal abuse establishments until all are free...
ALF uk"
>>
THOUSANDS OF MINK RUN FREE, FARMERS WORRY ABOUT THEIR FUTURE (Italy)
The Italian news agency ANSA reported that on September 24 approximately 9,000 mink were released from cages at the Savi fur farm in Conco (Province of Vicenza). The fence was cut in many places. As many as 3,000 of the mink made their way outside of the fence and have not been recovered. An office/storage building at the same farm was destroyed in an arson attack in November 2005*.
According to local newspapers, another liberation occurred in San Martino Buon Albergo (Province of Verona) at the Anipel mink farm on September 23. All cages at the farm were opened and fences cut, resulting in 3,000 minks liberated. Only half of them have been recaptured. The farmer said it has become harder for fur farms to find insurance. The same farm had been emptied in October 2006* and a food storage building and two trucks were torched a few months before that*.
*

http://www.directaction.info/news_nov15_05.htm
*

http://www.directaction.info/news_oct19_06.htm
*

http://www.directaction.info/news_june17_06.htm
>>
ALF ATTACK VIVISECTION BREEDER (UK)
anonymous communique:
"September 2008- Set within the Kent countryside is a dirty little secret the vivisection industry didn't want us to know: Blades Biologicals a commercial breeder of frogs and other amphibians, destined to die in HLS and other labs countrywide.
Security lights were disabled to allow us to work undisturbed in the dark. An emtpy polytunnel (used for breeding frogs) was cut to shreds. Anything with wheels was popped. Locks were glued on the main facility and damage was done to the peripheral. As a finishing touch we prized open a window, inserted a gushing hosepipe, fixed it on with expanding foam and flooded the place.
This is just the beginning in the war against vivisection- your barbaric ways are OVER.
VENGEANCE FOR THE DEAD, FREEDOM FOR THE ENSLAVED
UNTIL ALL ARE FREE.. A.L.F."
>>
FLY FISHERY TARGETED (UK)
received anonymously:
"On monday 22nd members of the angling retribution squad visited bank house fly fisherie in caton lancaster uk. We ripped down competion pictures and generally made a mess of their little club house of death. Before leaving we trashed 3 windows including a big glass door. We want to make it clear this is just the start of our campaign and unless bank house fly fisherie stops the slaughter of innocent life for their perverted pleasure we will return and things will be taken to the next level. The choice is yours
Angling Retribution Squad
Bank House Fly Fishery
Low Mill Caton,
Nr Lancaster
Lancashire
LA2 9HX
Tel: 01524 770412"
>>
MESSAGE LEFT FOR BULLFIGHTER (Spain)
According to media in Spain, the home and dry-cleaning business of the parents of José Tomás, the best known bull killer at the moment, have been targeted in the village of Galapagar (Madrid). The word "Asesions" ("Murderers") was spray-painted on the walls.
>>
3 BARCLAYS CASHPOINTS GLUED (UK)
anonymous report:
"In the last month our cell glued three Barclays cashpoints on the East coast of England. Drop the NYSE Barclays!
A.L.F"
>>
OLD TRICKS FOR A NEW DOG (UK)
reported anonymously:
"deep in Surrey is a town where a certain mystical managing director of Goldman Sachs lives. If you had gone down to 20, Quarter Mile Road, Godalming the other night you would have witnessed quite a show. We donned our special robes and hid a few things up our sleeves as we approached a very expensive looking car. We magicked away the paintwork, and with a swift prod of the wand, entered the inner circle of the tyres!
now for our next trick, Paul, we'll need some little helpers. three should do it..."
>>
MCDONALD'S BILLBOARD PAINTBOMBED (USA)
reported anonymously:
"A McDonalds billboard was paintbombed.
A Burger King was spraypainted all over its back wall.
Keep taking action!"
>>
STICKY SITUATION CONTINUES FOR BARCLAYS (UK)
anonymous report:
"A few cashpoints in the capital have recieved the glue treatment. With so many of them to choose from, where next?! London ALF"
>>
HOME VISIT FOR NOVARTIS VIVISECTOR (UK)
anonymous communique:
"Steve Charlton, vivisector for Novartis.
7 St Christophers Close
Horsham
RH12 2EH
give him a ring on 01403 242230.
Steve thinks its ok to abuse animals. think again you sick pervert. did you really think this was all over? we found you and came for you in the night, and this time was just a fucking warning. next time you won't be so lucky and only get your garage painted. at least all your neighbours know just how you and your sad wife holly get your blood money.
not happy with your new garage doors steve? didnt like the late night visitors outside your house watching you? contact NETCU and ask them about how they are forcing people into illegal direct action.
see you soon steve........
Animal Liberation Front"
>>
BARCLAYS BANK PAINTED AND GLUED (UK)
reported anonymously:
"A Barclays in the south was targetted, with red paint being spilled over it's white walls and door, and it's cashpoint and lock glued. See where this is going Barclays?"
>>
DOWN ON THE FARM WITH THE ALF (UK)
anonymous report:
"As a chicken farmer in hereford was resting his tomato red face down onto his pillow, activists got to work.
Allowing themselves into one of the large battery units on site, they began to take birds out of cages and bag them up ready for the drive to their new homes free from the horrors of the farm.
In only a few hours 250 chickens where on their way to saftey and the activists on their way home, another job well done.
who needs sleep when you have compassion?
ALF"
>>
ANIMAL TRANSPORTER & FARM VEHICLES WRECKED (UK)
anonymous report:
"The south isn't a good place for animal abuse is it? Especially if you leave things like a large cattle trailer outside. Now it's lost its tyres and gained a new paint job.
Several farm vehicles associated with animal abuse were also dealt with in the appropriate manner. Driving that new tractor may be a bit difficult after we slashed the tyres and cut some of the cables.
Have a nice day, courtsey of the ALF!"
>>
TWO SOUTHERN BARCLAYS VISITED (UK)
reported anonymously:
"17/09/08;
Hampshire: Barclays bank had white paint splattered over its windows and doors, both locks glued, and 'MURDERERS' spelt out all across the front.
Sussex: Barclays ATM is now out of service following the liberal application of expanding foam, glue and paint.
Barclays need to drop their shares in the New York Stock Exchange and get HLS off the market. Or expect to lose all your other ATMs, banks and related business interests...
Speciesism ends now!
ALF"
>>
Related articles
Global reports

http://www.indymedia.org.uk/en/2008/09/409289.html
(22nd)

http://www.indymedia.org.uk/en/2008/09/409079.html
(20th)

http://www.indymedia.org.uk/en/2008/09/408853.html
(16th)

http://www.indymedia.org.uk/en/2008/09/408599.html
(12th)

http://www.indymedia.org.uk/en/2008/09/408452.html
(10th)

http://www.indymedia.org.uk/en/2008/09/408339.html
(8th)

http://www.indymedia.org.uk/en/2008/09/408065.html
(3rd)
UK

http://www.indymedia.org.uk/en/2008/09/408433.html
(Solidarity For Sean Kirtley, 10th)

http://www.indymedia.org.uk/en/2008/09/408183.html
(ALF Tour Exbury Gardens, 5th)
Austria: 9 Remaining AR Activists Freed!

http://www.indymedia.org.uk/en/2008/09/408017.html
(2nd)
More information

http://www.animalliberationfront.com