A sea of blue and white burqas walked one and a half kilometres through the centre of Mazar-I-Sarif in northern Afghanistan today to register for the forthcoming elections.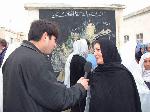 BBC interview/map of Afghanistan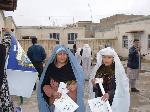 Two women, posters, registration cards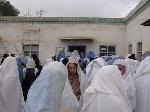 Women crowd the registration site

Men watch as 500 women walk down a small street
Mrs Nafeesa Ghyasi, a well-known local personality who hosts television programmes for women, gathered 500 or more women at Hashim-I-Barat high School. In coordination with my UNAMA Civic Education team the women walked two kilometres through the centre of Mazar to Baktash School registration site where they registered and all went home with the new Civic Education posters encouraging women to register. Extra registration teams were arranged so that the women were registered quickly and efficiently. It was broadcast on local TV and radio and was on the BBC international Persian service besides being covered by a number of local journalists and UNAMA sending the report and photos around the country as encouragement for others to do the same.
Men watching did not know what to make of it. It is the first time in the country that so many women have matched to register. Many men will be a little worried at this. As the women were wearing burqas their husbands will not know if they were there even if they see them on television.
During the year I spent campaigning against the war on Iraq by networking with various groups and being involved in the organisation of marches little di dI know how I would be putting these useful skills in northern Afghanistan.I am working with my local team to try and empower as many women as possible to exercise their democratic rights and the strength they have. There is a lot under those burqas.