At 8:30 am on November 20th at Admiralty Arch, Oxford activists unfurled a banner reading 'Bush Free Zone' and decorated with a (Bush choking) pretzel, and handed out leaflets which quoted the memoirs of George Bush Senior where he said occupying Iraq would be "unilaterally exceeding the United Nations' mandate," and "Had we gone the invasion [of Iraq] route, the United States could conceivably still be an occupying power in a bitterly hostile land."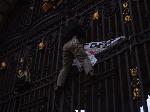 Climber hanging the "Bush Free Zone" banner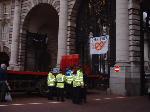 Two climbers and the "Bush Free Zone" banner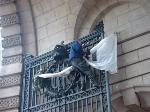 Attempt to hang the "City of London closed to Bush" banner
See report and press release at

http://www.indymedia.org.uk/en/regions/oxford/2003/11/281280.html
. A video of the action will probably be available soon.