Two Students at the University of Nottingham are on a hunger strike in response to the on-going "Siege on Gaza" and the University investment in the Arms trade.
Two student activists at the University of Nottingham have been on hunger strike whilst camping on campus since Tuesday the 22nd. The hunger strike will last until the end of the week and has been taking place in front of the main library (the Hallward) on University Park Campus.
The hunger-striking students, and many others, are concerned about the most recent, particularly inhumane, and on-going "Siege on Gaza", the continued Israeli aggression in the area, and the proliferation of arms as a result of the arms trade, which leads to the deaths of innocent people not only in Palestine, but in situations of military oppression around the world.

Flyer well received - application/msword 46K

Student Zionists found the facts hard to argue with - application/pdf 108K

- application/pdf 167K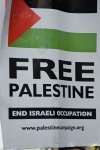 With the grassy area outside the library hosting tents covered in graffiti reading "The University Profits, Who Dies?" and "Free Palestine" and with a placard demanding "End the Siege on Gaza" one student commented that they felt that the protest had "opened up a politically radical, pro-Palestine, anti-arms trade space on a normally right-wing or apathetic campus."
The students involved in the protest have collected hundreds of signatures to present to the Vice Chancellor of the University in the first few days of the protest and have been handing out leaflets (see below) detailing the University investment in the arms trade and reporting the "humanitarian disaster" facing the people of Gaza.
When faced with these pieces of information most students are more than willing to add their signature to the letter addressed the Vice Chancellor that urges the University "to institute and support a ban of all Arms Trade companies from recruiting on campus and to ensure the University adopts an ethical investment policy".
Audio and some more photos (of better quality) to follow shortly.