DWP Civil Servants striking at Jobcentre Plus, Inland Revenue and Valuation Offices in Wrexham, N. Wales.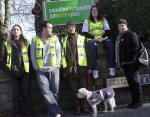 Jobcentre Plus Strikers in Wrexham, N. Wales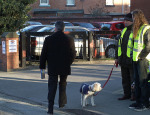 Jobcentre Employee crossing the Picket Line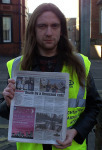 PCS Union member and Newspaper Article
DWP Civil Servants were on official strike on Monday 8th and Tuesday 9th March 2010, as a protest against the proposed scrapping of the Civil Service Compensation Scheme.
If scrapped, this would allow the Government to make mass redundancies on the cheap and deny many Civil servants any compensation rightly earned and owed to them.