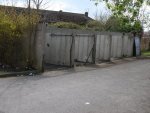 derelict semi-demolished garages
Pavilion were recently exposed on Indymedia UK as the new slum landlords, a description that would equally apply to many other housing associations, who are more concerned with empire building and making money for themselves and inflating their fat act salaries than looking after their tenants.

http://www.indymedia.org.uk/en/2008/04/396006.html?c=on
Early last week, garages at the entrance to Firgrove Court were in the process of being demolished.
Firgrove Court, a small estate of social housing, is earmarked for demolition, the tenants to be kicked out of their homes, the site then redeveloped as a car park for a superstore, part of the unwanted town centre redevelopment in Farnborough. Many of the maisonettes have sat empty for years, kitchens and bathrooms ripped out to render the properties uninhabitable.

http://www.indymedia.org.uk/en/2004/08/297093.html

http://www.indymedia.org.uk/en/2006/12/358511.html

http://www.indymedia.org.uk/en/2006/01/332594.html

http://www.indymedia.org.uk/en/2007/02/363819.html

http://www.indymedia.org.uk/en/2008/04/396016.html
Early in the week, all that remained was the shell of the garages, their roofs and doors having been ripped off. The asbestos roofs, much of the asbestos crumbling, was in two piles in front of the garages.
No special precautions had been taken for dealing with asbestos. The crumbling asbestos simply dumped in front of the derelict, half demolished garages.
Tipped off that there was more activity down at Firgrove Court where they had been dismantling garages and dumping asbestos, I went down expecting the evidence to have been removed and the asbestos gone.
I found all the garages had gone, but in addition to the two piles of asbestos roofs that were there earlier, there was now in addition a pile of crumbling asbestos.
Asbestos in situ and not crumbling is ok, but if it is removed and if it is crumbling, then it is very dangerous and should only be removed by specialist contractors. It has to be handled and disposed of as hazardous waste.
By the end of the week, it appeared as though all the evidence had gone, or so it seemed. But there was a large industrial skip. I wonder, I thought. I climbed up and had a look, and there in the skip, was the crumbling asbestos, exposed to the elements.
I spoke with one of the remaining residents, who Pavilion had not yet been able to force out of her home, not that is for lack of trying.
She had been watching the demolition take place, and she was shocked by what she saw. No special precautions had been taken to deal with the asbestos. She said the workmen were not even wearing gloves or masks.
I also spoke with her husband, he confirmed no gloves, no masks, no special precautions taken for handling asbestos, he then added that asbestos dust was blowing around. It had been very windy all week.
A former employee of Pavilion has told me of asbestos contamination at a number of properties in Aldershot, of which Pavilion tried to cover up.
One of these locations is a block of maisonettes. The maisonettes should have been demolished years ago and the tenants relocated. Instead, as no one wishes to live there, Pavilion uses the maisonettes as a sink into which they dump troublesome families, making the maisonettes blighted in more sense than one. The maisonettes are subsiding, they are contaminated with asbestos, the asbestos is crumbling.

http://www.indymedia.org.uk/en/2007/02/363820.html
Pavilion has refused to take any action to remove the asbestos, preferring instead to lie to the tenants and tell them the asbestos is 'safe'.
At least, that was their position a year ago. A position that disagrees with their own recently published internal document Asset Management Strategy (March 2008), taking a strategic view on how they will manage and equally important dispose of their assets over the next four years.
'Selbourne Avenue, Aldershot: Proposed demolition of last remaining block of 18 maisonettes to create houses and flats, incorporating an adjacent garage site. The block has issues with asbestos and is due a major refurbishment. All subject to funding and consultation.'
The tenants in the maisonettes have not been told their homes are earmarked for demolition.
The reference to 'consultation' does not mean or even imply consultation with tenants. It means consultation with other agencies, in particular the Housing Corporation and Rushmoor.
Elsewhere, in discussion of large scale disposal of assets, Rushmoor will be consulted, but only because Rushmoor were the previous owners of the assets, and under the transfer agreement, Pavilion are legally obliged to consult. Pavilion will do so in the full knowledge that Rushmoor will do what they have always done in the past, which is to rubber-stamp what is put before them, although councillors are starting to get a lot of stick from tenants and other residents of the Pavilion slum estates and starting to ask awkward questions.
The internal document Asset Management Strategy (March 2008) also has a section on asbestos.
'Asbestos Management'
'Current policy is to adopt a 'managed risk' approach; to leave materials containing asbestos in situ where it is undamaged and poses no immediate threat to health and safety and to advise all those who need the information of its existence. The policy complies with current legislation.'
'After identifying "at risk" dwellings based upon their age and construction a list of properties and garages needing further inspections has been prepared using specialist software to record information. This approach will allow the main core management systems (Orchard) to take specific data and populate responsive repair orders as to the likely risk of contact.'
'Incorporating the information onto a web-based platform to allow both contractors and customers' access to view relevant information specific to the dwellings programmed for July 2008.'
'The results of the detailed audit will be entered on the asbestos register to ensure compliance with the Control of Asbestos at Work Regulations 2002.'
Most of it meaningless twaddle, but even within the twaddle, Pavilion can be seen to be in breach of their own policy, let alone the Control of Asbestos at Work Regulations 2002.
The local council, known locally as the Rotten Borough of Rushmoor, has refused to date to carry out any enforcement action against Pavilion.
Rushmoor should, for example, be serving an Abatement Notice under the Environmental Protection Act on the asbestos. More generally, they should be taking enforcement action on the refusal of Pavilion to carry out repairs.
Councillors and their officials are aware of the failure to take special precautions in the removal of asbestos at Firgrove Court and to treat it as hazardous waste. It remains to be seen what enforcement action will be taken.
Pavilion is former council housing in Aldershot and Farnborough that used to belong to the Rotten Borough of Rushmoor. Pavilion now forms part of the First Wessex Housing Group, which also incorporates social housing in Portsmouth and Eastleigh.

http://www.heureka.clara.net/surrey-hants/ald-shot.htm

http://www.heureka.clara.net/surrey-hants/farnboro.htm
Housing associations are private corporations in all but name, fat cat salaries. There is a lack of accountability and the problem is not restricted to Pavilion or the south of England.
Mike Lane has produced an excellent documentary The Regeneration Game on the activities of housing associations in Liverpool, their cronies and supporters in Liverpool City Council, and how their activities are blighting whole areas of Liverpool.