Sunday 20th November 2005 6pm Liverpool City Centre – Christmas Light switch on.
The Santa twins from Liverpool Defy-ID showed their banner and gave out anti-ID leaflets to the public watching the switch on of Liverpool's Christmas lights. While walking through town the Santa twins were regularly stopped by parents and kiddies asking to speak to the Santa twins.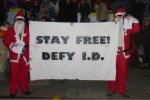 Santa Twins say no to ID Cards - holding the banner!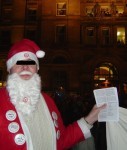 Is it Santa or is it Father Christmas?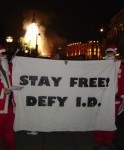 There's fireworks at protest, stay free - defy ID!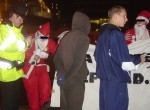 Police demand a Santa twin's name and address, colour of shoes?
A good humoured protest was held at the St. Georges Hall plateau even though the event manager approached the Santa twins and attempted to stop them taking their banner out and holding it up, getting all flustered he called on police support.
The event manager went into a huddle with three police officers who called for CCTV cameras to view the Santa twins, while this was all happening parents and others asked for our leaflets and kiddies cuddled the Santa twins. Not a single complaint was expressed to our supporters - the Santa twins didn't put a foot wrong. We got cheers from students in opposite St. George Plateau.
Later the Santa twins moved near to a crossing and two police officers came over to us and requested our names and details, one Santa refused said "I'm Santa - he's Father Christmas". The other Santa twin under pressure felt compelled to give his name and date of birth, before a friendly supporter told him he didn't have to give his name or any other details as we were engaged in a peaceful protest, at that point the Santa twin gave no further details.
The police officers thought at one point the Santa twins were from 'Stop The Police State' or 'Fathers For Justice' campaigns until the Santa twins stated clearly they were from Liverpool Defy-ID and gave them a leaflet which had contact details. Amusingly an officer when asked "you'll have to have an I.D. card too", replied "we're citizens too". In actual fact they are subjects and employee of the crown. According to the 'REASON FOR STOP' form one of the Santa twins was stopped to "Check personal details/documents" underlying the fundamental principles which guide our campaign against ID cards, national ID databases and the police state - the right to go about our business unimpeded. People, including young people expressed concern at the manner of the police questioning the Santa twins merely for protesting.
The Santa twins, Liverpool Defy-ID and our supporters found the protest enjoyable and highly worthwhile!