On Saturday night in Cambridge's Mill Road Cemetary some temporary artworks spelling out the word "Gaza" appeared - then disappeared again.


Version one of the "Gaza" piece, the largest at about 30ft wide.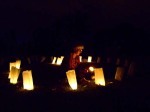 ...to create a circle of light in the gloom.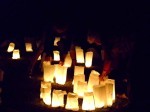 Reconfiguring the lights to make...


...Version two of the "Gaza" piece, about 10ft wide.
A small team of local activists repeated on a much smaller scale Friday night's candle piece by spelling out the word "Gaza" in light as a positive, creative response to the overwhelmingly negative, destructive forces on the other side of the world.
The largest version of the piece was about 30ft wide, with the second, more compact version being a mere 10ft across.
The Cemetary is absolutely pitch black at night with hardly any light pollution from the surrounding streets due to thick screens of trees, so the candles seemed to glow even brighter like little stars, which heightened the dramatic visual impact.
If anything can be ascertained from this action (aside from the artworks themselves which only a handfull of people directly witnessed, including a couple of dog walkers), it is that even a small group of people can come together to try and be a force for good.
If only the so-called leaders of the world would also follow this example and pile the pressure on Israel to stop the massacre in Gaza.