Last Saturday's Demo in the Market Square, Cambridge was even larger than last week's, showing the rising tide of opinion against Israel's ongong attck on Gaza.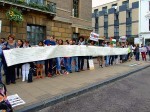 A frieze, on which many people expressed their frustration at current events.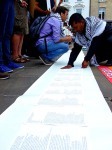 Assembling the names of the dead.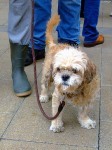 Everyone attended, including their dog!

Peace Child! Published with family's permission.
A broad cross section of Cambridge citizens attended this demonstration, which is now (to my knowledge) the third consecutive one to take place.
This time a small contingent of people wore tape across their mouths with the legend "BBC" on it, to protest at the continuing pro-Israeli bias of BBC News coverage, despite the overwhelming evidence that civilian casualties on the Palestinian side are vastly higher than anything inflicted upon Israeli citizens.
The BBC in some part also seem to be hanging onto the Tel Aviv party line of the military operation being about destroying tunnels, a pretext which appears more and more flimsy with every civilian death.
As ever it was a good natured affair, although this time a couple of cops decided it was worth their while attending too, which didn't happen last week!
However, despite international outrage, Israel continues to inflict further arbitray punishment upon the people of Gaza, resulting in a rising death toll.
However, now there has been a UK national casualty today, it will be interesting to see how events will unfold this week.