Yesterday afternoon "Unite the Union"'s tour bus came to town, promoting the newest (and possibly most affordable) trade union, which, unlike many other unions also includes membership options for the unemployed.
This is part of a countrywide tour to promote the union.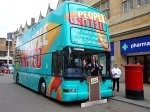 A big blue bus comes to town...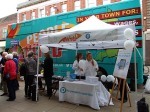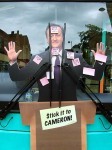 This is a stick up! Or is that stitch up..?
There were several features for passers by to interact with, including the "NHS Wheel of Misfortune" (see picture), both a parody and comment upon the current poor health of the NHS under this latest cost cutting, privatising Tory government, and a lifesize(?) cut out of David Cameron stuck to the front of the bus (see pictures) that you could stick post it notes telling him exactly what you thought of him - dangerous ground indeed - punningly named "Stick it to Cameron"!
There were representatives from Cambridge Against The Bedroom Tax in attendance, along with Cambridge Credit Union. There was a petition urging not to close the Royal Mail Cambridge sorting office, an action which would sacrifice several hundred local jobs at a time when it's increasingly difficult to find ANY work.
This and other petitions were soon filled up by the public.
Also present were BBC Three Counties Radio, asking people about their thoughts on issues such as unemployment and apprenticeships etc.
Although it wasn't the most radical of actions, it managed to reach a wider public and create a public space for discussing many issues.
The Unite union is still comparatively young (founded in 2007 from a merger of Amicus and Transport and General Workers' Union), and it remains to be seen how effective they will be in the long term, but they do represent some variety in a wider union culture where superannuated 'leaders' seem more interested in chasing 'honours' from the queen than in defending workers' jobs and rights.
The best we can do is hope they stay true to their course of supporting not only those whom are in work but also those who are not, of which there are now so many. They would also do well to distance themselves from The Labour Party as it currently stands, of whom we now know there are already several self-confessed Bilderberg Group members!
The Unite bus is currenty touring around East Anglia, so check the schedule (link provided) to see if it's pulling up in a town near you.