On Tuesday 19th February 2013, French Far Right MEP Marine LePen dared to show her face in Cambridge, on the invitation of the Cambridge Debating Union, whom were clearly up to their usual sensationlist tricks again.
About two hundred activists turned up and surrounded the building for the whole afternoon, effectively beseiging it, so there was nowhere for Madame LePen to run!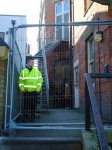 ...obstructed every single exit...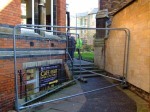 ...Replete with layers of private security and police.

Round Church Street with human blockade!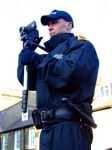 ...And of course F.I.T. (who never publish anywhere)!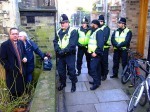 An Anglia News reporter was there too.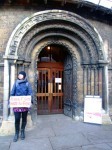 Staking out the Round Church...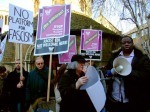 A Holocaust survivor speaks of her experiences.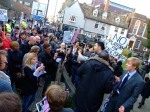 The audience was a good size for speakers (probably bigger than Mme LePen had).
Madame LePen arrived in a cab surrounded by an entourage of 'heavies' about 3:00pm, and was immediately mobbed by protestors and press, but still managed to get into the building, as the police and some private security hired by The Union gave her safe passage inside.
The building had a ring of steel around it, with all exits obstructed by steel mesh fencing (see pictures), along with an unknown private security team wandering around behind them, then in front of this were rows of police. In other words, a lot of money and human resources was being expended by the university and taxpayer on allowing a Fascist to preach their hatred to a small audience of subscription only punters.
As an aside, it was recently reported in TCS (The Cambridge Student) that 'The Union' has been running at a loss for up to years to the tune of several million pounds. By extrapolation this means it must be being subsidised by Cambridge University, so it is likely a world reknowned place of learning paid for the safe passage to and from the country of a known Far Right extremist.
During the afternoon there were a couple of flashpoints between protestors and police, when activists attempted to push their way into the building, a couple of times at the back of the building and once at a side entrance (see pictures), and as the photos will show a few people were 'manhandled' by the police during those times.
On Wednesday Mme LePen reportedly called this behaviour "idiotic", although most would agree there was only one idiot in attendance on Tuesday afternoon and they weren't standing outside the building being pushed about by the police.
F.I.T. also showed up, although aside from a rather weak attempt to try and intimidate activists by pointing a camera at them, becuase to the large number of activists and press with cameras and mobiles they probably got photographed and filmed a lot more!
Due to the nature of this demo, there were quite a few bilingual banners (see pictures), which was quite unusual but nice to see in Cambridge.
Two arrests were made, allegedly for an egg being thrown at the police, although nobody could see any physical evidence of it anywhere afterwards, and it's a mystery why they needed to arrest two people for one egg. Very odd.
There also several speakers, although the most notable was a Holocaust survivor who urged everyone to continue to fight Fascism, lest history be repeated.
After waiting around outside for a very long time, at about 6:00pm a few students filed out of the building (it seemed to be a small audience for her), then around 6:30pm something interesting happened. A police van with flashing lights hurtled up Jesus Lane with a dark coloured car behind it, pulled up around the corner on Round Church Street and was promptly surrounded by a line of police... then Mme LePen made a fast exit from the side entrance of the building and left in a different car!
In effect a decoy vehicle was deployed. The conclusion we can draw from this is that it's quite obvious that there has been a significant amount of planning and collusion between a Far Right MEP, the police and Cambridge Univerity to set up all of this.
You can't imagine this much attention (or expense) being lavished upon the likes of Tony Benn (for example), but then it is fair to say that Tony Benn commands a lot more respect for his views than an MEP who banned the wearing of Burqas for Islamic women.
Now we have to do it all over again on Saturday as the lovely EDL are visiting Cambridge, although they should expect a similar level of opposition from the locals, as Cambridge is one of the more cosmopolitan small cities in the country, so their ideology of religious hatred and xenophobia will never be welcome here.