In case you're wondering why I'm so late delivering these pictures, it's because I've been a bit ill this week.
Here goes...possibly what will be my last photo report from inside the occupation, given recent events.
Mind you, it's not over yet!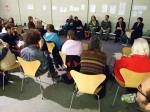 Cantabridgian & Palestinian Trade Unionists come together...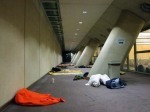 Activist sleeping arrangements...
The meeting you see being depicted above was for a talk and Q&A by Cambridge and Palestinian Trade Unionists, in which the Palestinians recounted the routine savagery of life in Gaza, including how for example hospitals in the Gaza strip never have sufficent medical supplies.
Support was pledged by Cambridge trade unionists for the occupation.
I turned up a little late for this session, so if anyone wishes to make an addition recounting in more detail what was discussed, please do so.
The group pictures I was asked to do by people gathered there that night - sorry for taking so long to sort these out.
Blame it on Mother Nature for making me ill this week.
;-)